Rajasthan

My dream of India fully matured in Rajasthan, the land of kings. Leaving the pink city of Jaipur, the bus entered the scrub desert heading north on the Bikaner Road, negotiating right-of-way with camel caravans, camel carts, and the odd camel napping in the middle of the highway. I held on tightly to the rusted railing of the seat in front of me as we bounced and jerked our way toward Chaumun. The dreamscape of this land appearing through the dusty haze conjured up Arabian Nights or Lawrence of Arabia. The Arravali Hills rose up on both sides of the road, and I could see ancient red stone forts, mostly in ruins, lining the ridges, once powerful military outposts, now monuments to the noble race of Rajput warriors. I've finally arrived, I thought.
Cartouche had given me accurate directions. When I reached Chaumun, I took an even older and more broken-down bus to Samod, which was clearly the end of the line. High above the village, scattered along the base of the rocky hillside, was the grand palace of the Rawal of Samod, built on three levels and surrounded by a red stone wall. I was now beyond passable roads, electricity, and telephones, and walked on a footpath through a medieval India of crumbling ruins, mud villages, straw-roofed huts, small stone temples, and rock outcrops.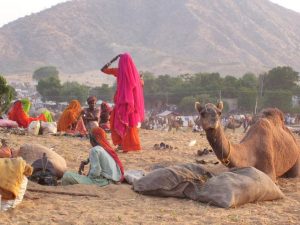 In Rajasthan, color and combinations of colors tease the senses and reach higher levels of esthetics than anywhere else in India. The simple village women, weighed down with silver jewelry and thick silver ankle bracelets, wore brilliant oranges, electric blues, blushing pinks, robust reds, and vibrant rice-paddy greens. The men's oversized tie-dyed or red-maroon-magenta polka-dot turbans shielded their faces, which were dry and cracked like the earth from the powerful desert sun. Their brightly painted earthen houses and piles of drying ox-blood red chile peppers stood out in contrast to the barren burnt land.
The footpath to the village of Amloda was packed with festive villagers all walking in the same direction. Must be some action somewhere ahead, I thought. A festival or a cricket match. I passed chhatris, cenotaphs, domed umbrellas supported by stone pillars, built to commemorate great warriors as well as their dutiful wives who sacrificed themselves on their husbands' funeral pyres. The crowd thickened as I reached Amloda.