Baba Rampuri Kumbh Mela Camp




Shri Panch Dashnam Juna Akhara



18th of December 2012 – 10th of March 2013
Hosted By Antaharashtriya Mandal Shri Mahants Baba Ram Puri Ji, Mangalanand Puri Ji and Mahamandaleshwar Banwari Puri Ji

Mahamandaleshwar Banwari Puri Ji

Shri Mahant Baba Ram Puri Ji

Shri Mahant Mangalanand Puri Ji
Programme
---
Akhanda Bhandara
Twice a day, meals in the form of a special 'bhog' will be served to mahatmas, devotees, pilgrims, and everyone else. 
We feed many hundreds every day, as well as providing 'nashta', tea, coffee, bottled water, and prasad throughout the day.
Samashti Bhandara
Once during the mela we make a feast accompanied by dakshinas for the entire Juna Akhara
in which we feed ALL of our sadhus and mahatmas present at the Kumbh Mela,
offer dakshinas to all according to rank, and even send dakshinas to many mahatmas who could not attend.
We hope to feed 25.000 mahatmas in this one Samashti Bhandara.
Please let us know if you would like to be a Sponsor.
Yajna
We will perform a 5 day SAHASRA CHANDI YAJNA during the first week of February.
Please let us know if you would like to be a Yajaman.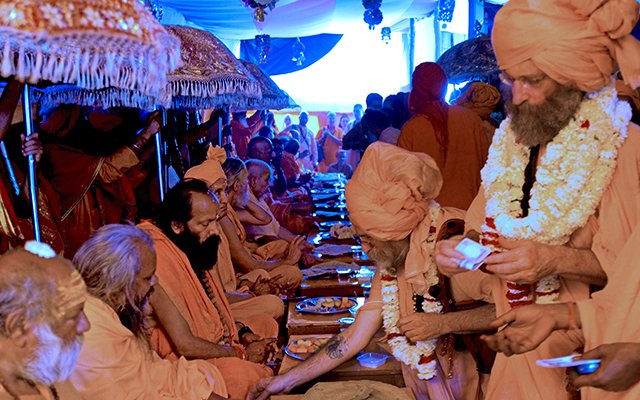 Daily darshan of Naga Babas and great mahatmas
Shri Mahants Baba Rampuri Ji and Mangalanand Puri Ji host the Shri Kapil Puri Parivar Darbar,
at which most of the important mahatmas of Juna Akhara, as well as a diversity of other mahatmas, make frequent appearances.
Ashirvad is given with mantras and vibhuti from the dhuni.
There are also frequent appearances of Jangams, Bhats, and other traditional bards and musicians.
Daily Satsang
There is continuous satsang at both Baba Rampuri's dhuni inside of Juna Akhara by him and many others,
as well as at the Mahamandaleshwar camp of Mahamandaleshwar Banwari Puri Ji, Baba Ji's guru-bhai.
Daily Arati
Arati is performed twice daily at both Baba Rampuri's Dhuni and at our Mahamandaleshwar Camp.
Specially arranged pujas and havans
Mahamandaleshwar Banwari Puri Ji is himself an accomplished acharya, and there are a number of Brahmins,
including the purohits of Juna Akhara, and those from Mahakaleshwar in Ujjain and the Brahman Mandal in Haridwar,
who are available for karma khand, various havans and pujas.
Music, bhajans, kirtan
Performances of devotional music and bhajans will be announced during the mela.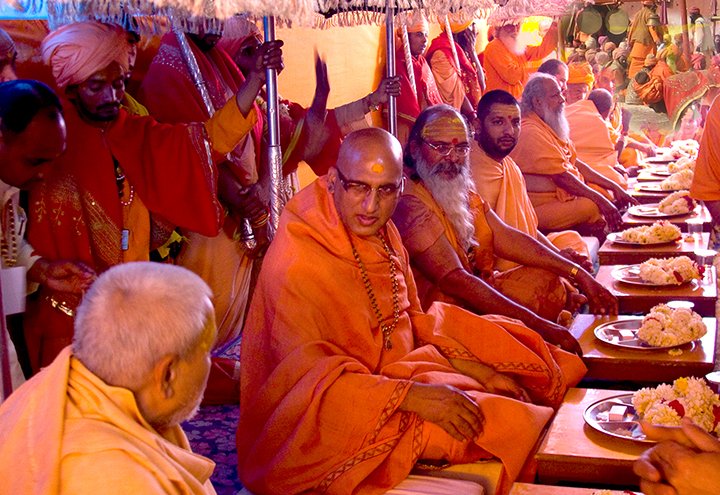 Your generous donations make this and much more possible
---
Our Maha Kumbh Mela 2013 Donations

"Together with my guru-bhais Mahamandaleshwar Banwari Puri Ji and Shri Mahant Mangalanand Puri Ji, and others in our lineage, we would like to ask you to join us, in body or spirit or both, with the blessings of Ganga Maa, to support a vastly expanded Kumbh Mela programme of blessings with your donations and dakshinas.
This is an opportunity to support 'non-commercial living tradition', and the blessings it may deliver; to ensure that blessings may be freely given – without a price tag, and that ancient traditions may continue to give these blessings for years to come. May it also be a challenge to those who would commercialize dharma."
– Baba Rampuri