On Navratri Day Five 2016, Wednesday, October 5, we invoke and worship Kushmanda Ma, the 4th manifestation of Durga, Whose name alone is a compendium of knowledge and secrets.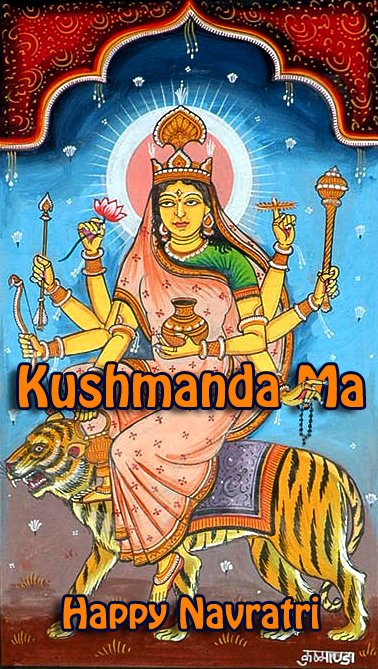 If we pronounce Her name correctly, which means pointing the tongue upwards when we enunciate the Sanskrit "sha" and "anda" which are known as "retroflex" consonants, we have done half our work of invocation by pointing our speech past the sky (akash – from where comes the light) to the Sun, in whose abode this Goddess lives. Considered by some to be the Mother of the Sun, she brings the Sun's warmth, light, and clarity to Earth, for as Brahmanda, The Egg of Brahma, is known as the cosmos, Ku-ushma-anda may be though of as the "Egg of Light in the World," illuminating all things, making all things known.
The flash of Her smile is the Light of the World.
She may also give the 8 siddhis, extraordinary powers, to Her devotees – She keeps them in Her rudraksha mala, which you can see in the photo under the syllable "Ma."
It is said that by worshiping Her, ailments and sorrows are eliminated, and life span, name, strength and health are improved.
She may be invoked with the following mantra:
YA DEVI SARVBHUTESHU MAM KUSHMANDA RUPENA SAMSTHITA
NAMASTASYAI NAMASTASYAI NAMASTASYAI NAMO NAMAH
SURASAMPURNAM KALASHAM RUDHIRAPLUTAMEVA CHA
DAHDANA HASTAPADMABHYAAM KUSHMANDA SHUBHADASTU ME